Steven Gooden, CFA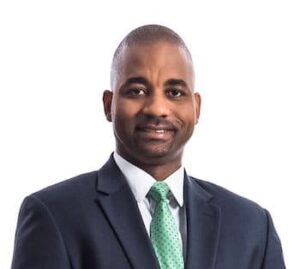 Steven Gooden is the Chief Executive Officer of NCB Capital Markets Limited (NCBCM), which is the wealth management and investment banking arm of the Jamaican based NCB Financial Group Limited – the 2nd largest financial conglomerate in the English speaking Caribbean. Under his leadership, NCBCM has become the leading investment house in the Caribbean having expanded throughout the region via the establishment of hubs in the Cayman Islands, Trinidad & Tobago and Barbados.
Steven's ascension to executive management was at 26 years old when he was appointed General Manager for what was then one of Jamaica's leading fund management companies. In 2009, he rejoined NCB Capital Markets as Vice President, Investments and Trading; successfully integrating the investment management functions of the Group's subsidiaries with combined assets at the time exceeding US$2 billion.
Steven has a passion for the development and deepening of the region's capital markets and is the President of the Jamaica Securities Dealers Association as well as a Director on the Board of the Jamaica Stock Exchange (JSE). He holds directorships in a number of other companies and serves as Chairman for two companies listed on the JSE Junior Market.
Steven is a holder of the Chartered Financial Analyst (CFA) designation, has an M.Sc. in Finance and Economics, a B.Sc. in Economics and Accounting, and has received many accolades in the areas of research and portfolio management.
There were no results found.