Sonya Mughal, CFA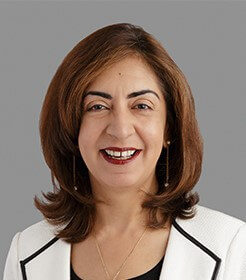 Sonya joined Bailard in 1994. She serves as the Chief Operating Officer and Chief Risk Officer for the firm. She is also a co-portfolio manager for the Bailard all cap growth/technology and science equity strategy and oversees security analysis, portfolio optimization, and portfolio construction across the firm's core equity portfolios.
Sonya currently serves on the Schwab Advisor Services Advisory Board. From 2012 to 2018, she served as a Silicon Valley Community Foundation investment committee member. A member of Phi Beta Kappa, Sonya earned her BA in mathematics from Randolph-Macon Woman's College in 1994. She earned her Chartered Financial Analyst® designation in 1997 and is a member of the CFA Institute and the CFA Society of San Francisco.
There were no results found.