Sanjay Arora, CFA, ACA, CMA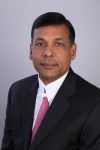 Sanjay Arora, CFA, CMA, ACA, is Managing Director of Institutional Fixed Income Capital Markets at Raymond James (listed "RJF").
Sanjay started his professional career in 1991 with PwC (Pricewaterhouse) at their Bahrain office and travelled on assignments around the Gulf including restoration of Kuwait Oil Company post the Gulf war. After PwC, Sanjay moved to Saudi Arabia to setup finance and operations for Landmark Group, one of the largest retail conglomerates that was expanding their business in Middle East. Sanjay moved back to Bahrain as CFO for one of largest private investment company to manage their financial operations and global multi-currency investment portfolio. In 2001, Sanjay was hired by Morgan Keegan, owned by Regions Financial (listed "RF"), at their head office in Memphis, TN to expand their sales in International Institutional Fixed Income Capital Markets. Raymond James bought Morgan Keegan in 2012 and Sanjay relocated to New York.
Sanjay is Chartered Accountant, Certified Management Accountant and CFA charterholder.
There were no results found.