S.P. Kothari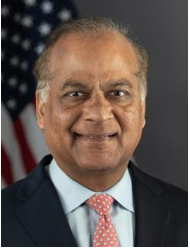 S.P. Kothari was named the Chief Economist and Director of the Division of Economic and Risk Analysis (DERA) in March 2019. In this role, he oversees economists, data scientists, and other professionals who provide financial economics and data science in support of the SEC's mission.
Dr. Kothari joined the SEC from the Sloan School of Management at the Massachusetts Institute of Technology (MIT), where he was a professor of accounting and finance and a former Deputy Dean.
Dr. Kothari spent nearly two decades at MIT, both as a professor and as an administrator. His research interests include financial reporting, valuation, asset allocation, international accounting practices, executive compensation, investment performance, and derivatives.
Dr. Kothari has served as the Co-Chair of the Board of Governors Asia School of Business, Kuala Lumpur, faculty director of the MIT-India Program, and editor of the academic publication Journal of Accounting & Economics. In 2008, he served as global head of equity research for Barclays Global Investors, where he was responsible for research supporting the firm's active equity strategies and for managing a team of approximately 50 PhDs based around the world.
Dr. Kothari received his B.S. in Engineering from the Birla Institute of Technology & Science and his MBA from the Indian Institute of Management. Dr. Kothari earned his PhD from the University of Iowa.
There were no results found.