Rossitsa Stoyanova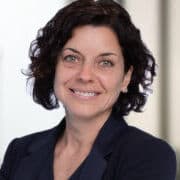 Rossitsa Stoyanova is responsible for leading the Portfolio Design team and is accountable for establishing the long-term total portfolio design that addresses our mandate to maximize investment returns without undue risk of loss. She is a member of our Inclusion and Diversity Council, and executive sponsor of our Women's Initiative.
Prior to joining CPP Investments in 2008, Rossitsa was at GE Energy Financial Services in Stamford, CT, where she was responsible for due diligence as well as structuring and negotiating acquisitions in the power sector. She also worked in Assurance and Advisory Services at Deloitte & Touche in Chicago.
Rossitsa holds a BBA from Saint Mary's College in Indiana and an MBA from the Kellogg School of Management at Northwestern University in Illinois.
She is on the boards of WiltonRe and Cordelio Power.
There were no results found.