There were no results found.
There were no results found.
Roberta Waxman-Lenz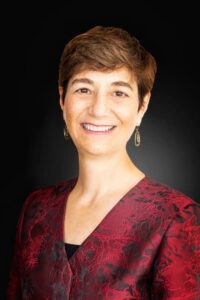 Roberta Waxman-Lenz serves as the Head of Real Assets and Portfolio Manager for the United Nations Joint Staff Pension Fund in the Office of Investment Management. She manages a global portfolio and provides strategy oversight of the UN Pension Fund's global real assets portfolio, including infrastructure, timber, agriculture, and commodity investments. She conducts financial due diligence on investment opportunities, evaluates management teams for recommendation, and negotiates deal terms. She has served on over 20 real estate advisory committees of portfolio funds around the globe.
Previously at the Townsend Group, Roberta advised on discretionary and non-discretionary capital of pension plans totaling greater than $10 billion invested in real estate funds and recapitalization facilities. She provided strategy consulting, investment planning and portfolio monitoring and underwrote investment opportunities.
As a manager of a large-scale project for Ernst & Young in Kazakhstan, Roberta oversaw a team responsible for privatization of state enterprises. With over 20 years of investment and finance industry experience, Ms. Waxman-Lenz has held positions with the Export-Import Bank, US Department of Treasury and the World Bank. While at the Export-Import Bank, she co-authored a chapter on funding cross-border transactions in the book, International M&A, Joint Ventures & Beyond.
Roberta has served on the Selection Committee for BGV, a micro-lending organization focused on funding women-owned start-ups. She is currently an investor board member of AIF Global and a member of Pension Real Estate Association (PREA), the ULI Global Exchange Council, and WX, an association of executive women in real estate.
She holds a BA with Honors from Wesleyan University and an MA from The Johns Hopkins University of Advanced International Studies (SAIS).