There were no results found.
There were no results found.
Quint Barker, CFA
Chief Investment Officer, GoldPoint Partners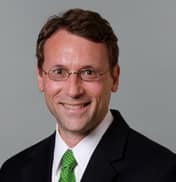 Mr. Barker is a Managing Principal at GoldPoint Partners, involved in all of its investment activities with a concentration on its equity co-investment business. Prior to rejoining the firm in 2000, Mr. Barker was a Vice President in PaineWebber's Principal Transactions Group, a $1 billion portfolio of corporate and key executive's venture capital, LBO equity, real estate, and hedge fund investments. Prior to PaineWebber, Mr. Barker worked in the Private Finance Group of New York Life, where he managed a portfolio of private equity, mezzanine, and non-investment grade debt investments.
Mr. Barker earned a BA in Electrical Engineering from Georgia Tech and an MBA from Duke University's Fuqua School of Business. Mr. Barker is a holder of the Chartered Financial Analyst designation. Mr. Barker also serves on GoldPoint's investment committees.