Miyuki Zeniya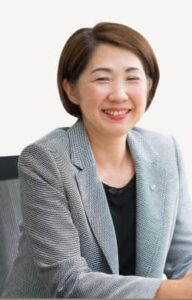 Ms. Miyuki Zeniya is Head of Sustainable Finance at The Dai-ichi Life Insurance Company whose AUM is about 35 trillion yen and is responsible for ESG integration and promoting sustainable finance. After she joined the Dai-ichi Life in 2013, she had been responsible for engagement and proxy voting since The Dai-ichi Life expressed the agreement with Japan's Stewardship Code in 2014
Prior to joining The Dai-ichi Life, she was a managing advisor for Polaris Capital Group and led a role to value up the investee companies as their board member. Prior to this she was Deputy President of Japanese regional bank, which was the first full-time female board member of banking industry in Japan. She also had an experience to lead IPO as CFO of HR consulting firm in 2000. She graduated with a bachelor's degree in International Relations from Tokyo University of Foreign Studies. She started her career at Nomura Research Institute.
She was a member of a Forum for Integrated Corporate Disclosure and ESG Dialogue by METI and a member of PFA 21 Task Force for ESG Financial Strategy by MOE. From April of 2019 she is a member of Working Group on the NAP on Business and Human Rights by MOFA. She is also a member of PRI Japan Network Advisory Committee.
There were no results found.