Manju Seal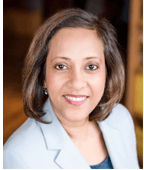 Manju has over 13 years of working extensively in the financial industry for investment banking and investment firms with an emphasis in structured finance, risk management, and quantitative methods.  At McMorgan & Co. in San Francisco, she was a fixed income portfolio manager. She is a VP alumna from Goldman Sachs, NY – FICC & Investment Management Division (or GSAM). She has worked for over nine years in fixed income asset management focused on institutional investors.   Seal's unique combination of buy-side and sell-side experience along with demonstrated leadership in ESG brings a distinctive and valuable perspective to BMO Capital Markets.
Since 2008, she has provided transformative leadership, financial management, and corporate governance for organizations focused on social/environmental impact. She led two nonprofits: as Board President & Interim Executive Director at Narika.org, and as the first Executive Director at the venture philanthropy startup, Leap201.org, launching poverty alleviation strategies for Southeast Asian farmers living below $2 a day. A polymath, she has master's degrees in business administration, mathematics, and ethnomusicology. She is an American Marshall Fellow (2008).
There were no results found.