Lisa Lee, CISSP, CRISC, CISA, FITR, IAM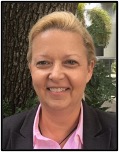 Lisa Lee focuses on Microsoft's top global clients within the financial sector.  She has responsibility for providing advice and guidance to CISOs, evangelizing Microsoft's security and compliance capabilities, and promoting digital innovation.  She serves as a trusted and strategic advisor, making sure clients are apprised of emerging tools and threats.  She also ensures the unique security needs of the financial clients are being met.
Prior to Microsoft, Lisa served as a bank regulator and IT Examiner at the Office of the Comptroller of the Currency, the Office of Thrift Supervision, and the Federal Home Loan Bank of Atlanta.  She led the FFIEC team that developed the first cybersecurity assessment tool for the financial industry and helped draft the first guidelines for online banking authentication and cloud computing.  Lisa holds a Bachelor of Business Administration degree from the University of Miami, was selected as a Woman of Influence by the Executive Women's Forum and CSO Magazine, and previously served on the board of directors at Wellspring Counseling.  She often speaks at conferences such as RSA and FS-ISAC and is a semi-professional photographer.
There were no results found.