There were no results found.
There were no results found.
Kim Quinones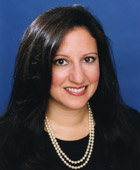 Kimberly joined the Hudson River Park Trust in July 2021. She previously was the Executive Director of the NYC Blockchain Center, a public/private partnership between the Global Blockchain Business Council and the NYC Economic Development Corporation, and a Director with GBBC. Her career spans the finance, government, and non-profit sectors. Kimberly spent three decades as a Public Finance banker and managing director in New York and Los Angeles, structuring infrastructure and general fund financings for large and frequent issuers of municipal bonds. She also served as CFO of a NYS state public authority (RIOC) and in the Office of the Mayor of NYC. In the non-profit sector, she has been an advocate for women in leadership roles as President of the Financial Women's Association and a board member of California Women Lead. Kim served on the board of governors of the Municipal Forum of NY, the Vanderbilt YMCA, the California Volunteers Commission and the NYS Committee on Fiscal and Economic Priorities. She holds a degree in economics from Princeton.