There were no results found.
There were no results found.
Keon Holmes, CFA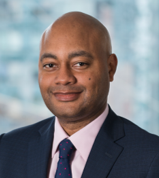 Keon is a Managing Director in Cambridge Associates' Boston office. He works with a number of universities, foundations, hospitals, cultural institutions, independent schools, and private clients across the world, ranging in size from $100 million to over $10 billion. Keon specializes in constructing and overseeing portfolios for his clients.
Prior to joining Cambridge Associates in 2005, Keon worked in equity risk management products with UBS AG in Hong Kong while attending business school. Prior to this, he worked as an Investment Manager for private clients at JP Morgan Private Bank, administering investment portfolios for private clients of the southeast regional office in Atlanta. Prior to this, Keon was an Associate in the equity derivatives group at JPMorgan & Co. in New York.
EDUCATION
CFA Charterholder
MBA, Harvard Business School, Harvard University
BS in Electrical Engineering, Howard University
BOARD AFFLIATIONS & COMMUNITY INVOLVEMENT
Board Member, CFA Society Boston
Board of Trustees Chair, Lasell University
Board Governor, Harvard Business School Association of Boston