Joel Paula, CAIA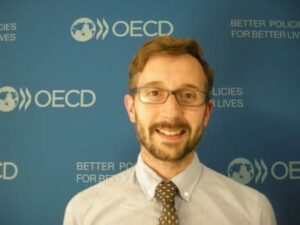 Mr. Paula is a Policy Analyst for the OECD project "Institutional Investors and Long-term Investment", in the Insurance, Private Pensions, and Financial Markets Division at the OECD. As part of this project, Mr. Paula leads work on the Annual Survey of Large Pension Funds and Public Pension Reserve Funds, and has contributed to policy work at the G20 and APEC on long-term investment, institutional investors, and infrastructure as an asset class. Mr. Paula also works closely with delegations of the OECD through the G20/OECD Task Force on Long-term Investment, and with members of the G20 Infrastructure Working Group.
Prior to joining the OECD in 2014, Mr. Paula worked for eight years in the institutional investment consulting industry at NEPC, LLC, an independent consultancy providing asset allocation, strategic planning, and manager due diligence services. His role at NEPC led the firm's strategies in fixed income markets, contributing to asset allocation, the role of fixed income in investment portfolios, and more broadly identifying investment opportunities in global markets. Highlighted projects included a white paper on fixed income asset allocation, researching local currency emerging markets debt as an institutional asset class, and credit recovery/opportunity strategies in the post credit crisis period.
He was educated at Bentley University and The Fletcher School at Tufts University, both in Massachusetts, United States.
There were no results found.