There were no results found.
There were no results found.
Joanna Zeng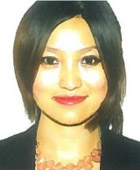 Joanna is a Senior Account Manager at Coinbase Institutional. She caught the "crypto bug" back in 2017 as an FX Sales "career hedge". Since then she's developed an unhealthy amount of interest in DeFi and is personally involved in a few opportunities – BD consulting for Chainlink and Board Member of CryptoNYC to name a few.
Prior to Coinbase, Joanna has 13 years of Institutional Sales experience on Wall Street – 4+ years as a Technology Banker, and last 8+ in FX Sales, advising Multinational Corporations. She has a track record of generating strong revenues without compromising client satisfaction, as well as closing complex sales that are highly technical.
In addition, she is passionate about Fintech and Entrepreneurship: Co-Founded an ed-tech start-up while she was in business school; Initiated cross-functional projects driving Treasury innovations/payment automations in a highly-regulated industry. As a board member of Crypto NYC, Joanna helped manage an early-stage Blockchain & Cryptocurrency developers' community, promoting & investing in DeFi projects.