There were no results found.
There were no results found.
Ivelina Stefanova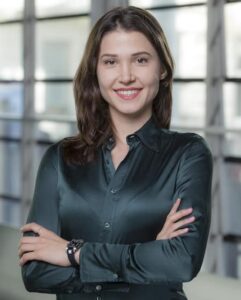 Ivelina, an ESG Investment Analyst at Phoenix Group, was the first member of the Asset Management function within the firm to hold a Climate Change-related degree.
Ivelina's work focuses on the development of the sustainable investment strategy for the £328bn multi-asset fund (as of 01/06/2021).
Prior to joining the firm, Ivelina worked for South Pole and United Nations Environment Programme Finance Initiative (UNEP FI), where she was involved in aligning multinational banks and investors to the Financial Stability Board's Task Force on Climate-Related Financial Disclosures (TCFD) recommendations and the Paris Accord.
Ivelina also worked for Legal & General, where she supported the development of an ESG Policy for the firm's annuity portfolio including analysis of the green bond market and exclusion of non-compliant fixed income issuers.
Ivelina holds a Master's degree in Climate Change , Finance and Management from Imperial College London, BSc in Economics and is currently pursuing her CFA designation.