Habib Moudachirou, FRM, CIFD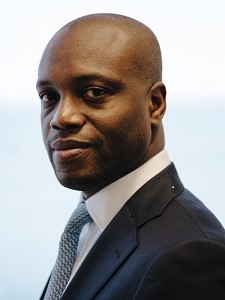 Habib is a co-founder and the Chief Investment Officer of V-Square Quantitative Management where he oversees research and portfolio management. He is a 20-year veteran and has worked for global financial services companies in Europe and the U.S. Having gained major recognition as an expert in portfolio management of developed and emerging markets, he also possesses a wealth of knowledge of capital markets, their regulatory and operational frameworks. Numerous of his strategic initiatives focused on environmental, social, and good governance matters, dating back to 2007 when he launched the first active quant climate change fund at HSBC.
V-Square is at the intersection of quantitative finance and sustainability, creating and managing strategies and portfolios. Prior to V-Square, Habib held various senior roles in investment, research, product and business development at HSBC, Emerging Global Advisors (Columbia Threadneedle), JP Morgan, and Vident Investment Advisors.
Habib was an Adjunct Professor at New York University SPS in the Finance and Law program until 2018, and regularly works with and lectures at the University of Chicago Master of Science Program in Financial Mathematics (FinMath).
Habib holds a BS in Physics, an MS in Engineering and Statistics, Applied Mathematics and Economics, and an MS in Quantitative Finance. He also holds the Financial Risk Manager (FRM) designation, certified by the Global Association of Risk Professionals (GARP), and is a Certified Investment Fund Director (CIFD).
Habib is a member of the Advisory Board of The Journal of Impact & ESG Investing, part of the Portfolio Management Research family that contains titles including The Journal of Portfolio Management, The Journal of Investing, and The Journal of Fixed Income.
There were no results found.