There were no results found.
There were no results found.
Dr. Donna M. Rapaccioli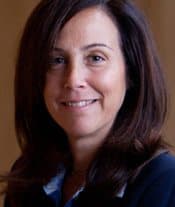 Dr. Donna M. Rapaccioli is Dean of the Gabelli School of Business at Fordham University, where she holds the rank of University Professor.
As an administrator, Dean Rapaccioli has earned a reputation for creating academic programs that emphasize applied learning, a global perspective, interdisciplinary thinking, and strong ties with industry. Her philosophy centers on business with purpose, grounded in the Jesuit-influenced principle that commerce should advance society in a greater way.
Dean Rapaccioli's research interests lie in the area of earnings management and international accounting; she has published articles in academic journals and practitioner outlets and is the co-author of two book chapters. In her role as professor, Dean Rapaccioli was selected by students to receive the outstanding teacher award. She has consulted for and lectured on accounting and finance topics at numerous financial institutions in New York City and serves as a director on the board of GE Asset Management Mutual Funds.
She earned her bachelor of science degree in business administration from Fordham University's Gabelli School of Business and her master's degree and PhD in accounting from New York University's Stern School of Business.