David Motsonelidze, CFA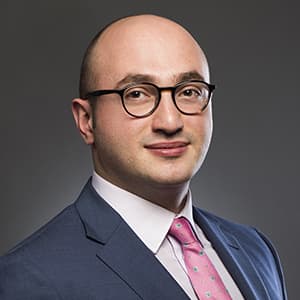 David Motsonelidze is a Director at Stifel. He joined the firm through its acquisition of Barclays Wealth and Investment Management, Americas, where he worked since June 2012. In this role, Mr. Motsonelidze contributes to the creation of macro-economic investment ideas for high net worth clients. He is a member of the firm's Investment Strategy Committee, through which he contributes to tactical asset allocation decisions and is responsible for ensuring they are adapted across five risk profiles. Mr. Motsonelidze's areas of analytical specialty are global macro-economic issues and global equities. Prior to Barclays, Mr. Motsonelidze was an Equity Analyst at Bloomberg, covering global equities. In this role, he conducted industry research and built and maintained financial models to gauge companies operating and financial performance. Mr. Motsonelidze holds an M.B.A from Columbia Business School. He also holds an MSc in Finance from Manchester Business School in the UK (graduated at the age of 20) and a BSc in Finance from International Black Sea University in the country of Georgia. He also has Series 7 and 63 licenses. He is a CFA® charterholder and a member of the CFA Society of New York, the CFA Institute, the Economic Club of New York and the New York Association for Business Economics. Also, he was awarded a George Soros Foundation scholarship to attend the American Institute on Political and Economic Systems in the Czech Republic (AIPES 2007), and is an alumnus of the Future Leaders Exchange Program (FLEX 2004) funded by the U.S. State Department.
There were no results found.