Dan Winters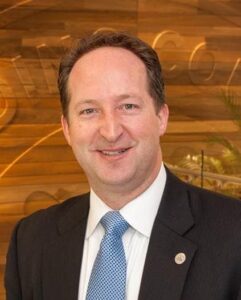 Mr. Winters furthers GRESB's international scope and impact by engaging institutional investors throughout the Americas, establishing industry partnerships for ESG data, and expanding GRESB coverage among REITs, private equity firms and multinational lenders.
GRESB is an industry-driven organization committed to assessing the sustainability performance of real asset portfolios around the globe. Institutional investors use the GRESB Benchmark to engage with private equity fund managers and listed companies, aiming to improve the sustainability performance of their investment portfolios and the global real asset sector at large.
He previously served the U.S. Green Building Council as Senior Fellow for Business Strategy and Finance. Additional professional experience includes tenures at Russell Real Estate and CBRE, and participation in several start-up technology companies.
He earned his Masters in Real Estate Finance and Development from Harvard, MBA from Southern Methodist University, and is an alumni of the University of Wisconsin real estate program. Mr. Winters is a lecturer at Colvin School of Real Estate at University of Maryland, and a Counselor of Real Estate.
There were no results found.