There were no results found.
There were no results found.
Atit Amin, CFA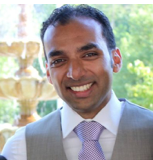 Atit Amin, CFA, is an Associate at Pivot Investment Partners, a New York-based, FinTech-focused venture capital firm. In his role, he is tasked with evaluating late stage venture and growth equity types of financial services and financial technology businesses globally. Most recently, he co-led Pivot's expansion into insurance technology, where the company has already made two successful investments in Gusto and Trov. Prior to joining Pivot in December 2015, Atit spent five years at CEB, an Arlington, VA-based management consultancy, as a Senior Research Analyst building out the firm's financial services practice. There, he provided senior leaders at Fortune 500 firms and their teams with insight and actionable solutions to transform operations. From July 2013 to November 2015, Atit was also a member of the Boston Security Analysts Society, where he contributed to the growth and development of the Young Leadership Committee. He earned a BA, Cum Laude, in Economics and International Relations from Colgate University in May 2008, and as of August 2016, became a CFA Charterholder.