Aldo Tembe
CEO, Moçambique Previdente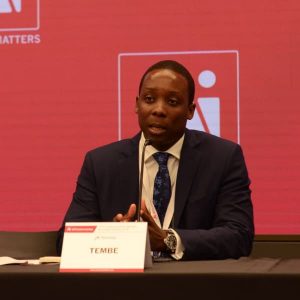 Aldo Tembe has over eight years of experience in the Insurance sector and in the corporate environment for over ten years. Aldo is the CEO and founder of the First Mozambican Pension Funds Management Company (Moçambique Previdente) and was responsible for the development and inception of the company in Mozambique. He championed this project in engaging NBC Moçambique, S.A. (a group with roots in South Africa – NBC Holdings PTY) with Mozambican State-Owned insurance company – EMOSE, S.A.; IGEPE – States Share Management Company and GETCOOP – Emose Employees Association. Moçambique Previdente, S.G.F.P., S.A., since its inception in 2013, has doubled the client base and continues to grow.
Prior to Moçambique Previdente, he worked for four years at the British American Tobacco in the CORA (corporate, regulatory affairs) and Legal department. He also worked as a legal consultant and corporate advisor for Nadhari, Lda, Mila Investments.
Aldo is a shareholder in NBC Mozambique, a partner company of South African Based NBC Holdings, Pty, a Pan African Pension funds management company and a Non Executive Director and Founder of NBC Mozambique Micro Insurance, the first and only Mozambican Micro Insurance Company, who works in providing insurance solutions for low income in Mozambique.
There were no results found.