On Thursday, October 20th both CFANY and AIMA cohosted an event to nearly 150 industry professionals on "The Future of Hedge Funds". The backdrop for the event was an AIMA Research Committee survey of 120 hedge fund managers about their relationships with investors. A presentation summarized the findings this AIMA survey and research paper titled "In Concert." The paper analyzed the alignment of interests between hedge fund managers and investors. Four themes that were highlighted were high water marks, hurdle rates, crystallization and longer lock-ups for lower fees. The results show that 97 percent of managers have high water marks aligned with their performance fees. Clawbacks were also discussed as an emerging trend.
The panel discussed these and other current themes from a unique and diverse set of perspectives. The panel was introduced by CFANY representative Harumi Urata-Thompson, CFA. Participants included Michelle Noyes, CAIA, Chief Operating Officer of AIMA New York, Robert E. Kiernan III, CEO of Advanced Portfolio Management LLC, an investment management company based in NYC, Melissa Santianiello, Founder and Board Member of Alignment of Interest Association (AOI), a non-profit, investor driven organization strengthening the alignment between HF industry participants and Michael Oliver Weinberg, CFA, Chief Investment Strategist at Protégé Partners, a small and emerging manager specialist, Chair of the Value Investing Committee at CFANY and AIMA Board Member. The panel was moderated by Antonella Puca, AIMA research committee member and Treasurer of the Board of Directors of CFANY.
Discussions kicked off with how hedge funds still have a role in diversification, improving the efficient frontier of portfolios, downside protection and exploiting market inefficiencies that long-only strategies are unable to capture. The panelists emphasized that hedge funds refer to a partnership structure and are in fact a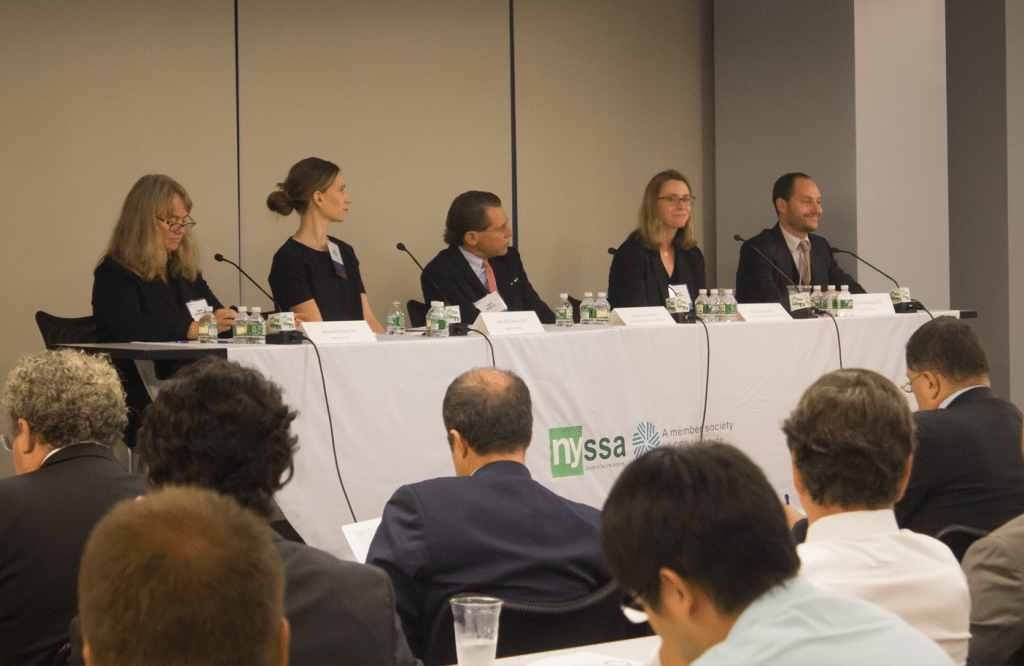 heterogeneous set of strategies, and that it is often misleading to make generalizations regarding such a disparate set of strategies that fall under the structure. Central bank driven market distortions and the resultant low return environment are likely adversely impacting hedge funds. The panelists discussed innovations within the hedge fund structure, including co-investment opportunities, innovative new fee structures, and shared research.
The importance of a strong operational team for both existing and seed managers was also highlit. They observed how operations in the alternatives space have become more sophisticated and cheaper as vendors offer new technologically driven and out-sourced solutions. Technology was also emphasized as Investors are looking for managers that understand they invest in an environment of algorithmic trading, artificial intelligence investors, and systems that emphasize strength in operations, engineering know-how and speed. Machine learning/artificial intelligence funds were discussed as an evolving area of opportunity. Seeding, acceleration capital and uncorrelated strategies were also identified as areas of strong opportunity.
The conclusion was that hedge funds offered a unique and valuable way for investors to access strategies, returns and alpha that are not typically accessible through more traditional structures, such as long only, and are highly accretive to more traditional portfolios. Though incentives are currently aligned, there is still room for greater alignment between general and limited partners, and the hedge fund industry continues to move in that direction.
By Richard Lopez, ASPN Solutions, and Michael Oliver Weinberg, CFA, Protégé Partners