Stephanie Potter
Senior Director of Sustainability and Circular Economy Program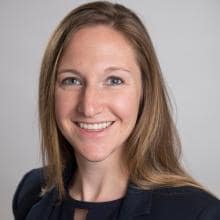 Stephanie is the Senior Director of the Sustainability and Circular Economy Program at the U.S. Chamber of Commerce Foundation's Corporate Citizenship Center. She oversees the development of programming that promotes understanding of key circular economy and sustainability issues including around design, new business models, and transformative partnerships. Before joining the U.S. Chamber of Commerce Foundation, Stephanie served as Vice President of Sustainable Business Development at Rabobank where she led the Bank's North American sustainability strategy. Rabobank is a premier bank to the international food and agriculture industry as well as a leading financier of solar, wind, bioenergy, and energy infrastructure projects.
Stephanie has extensive entrepreneurship and public-private partnership experience, having supported global corporate partnerships and venture growth at Ashoka and, prior to that, fund management and early stage enterprises at Silicon Valley Social Venture Fund (SV2). Stephanie received degrees in Political Science (BA) and International Comparative Education (MA) from Stanford University.
There were no results found.