Sonja Gibbs, CFA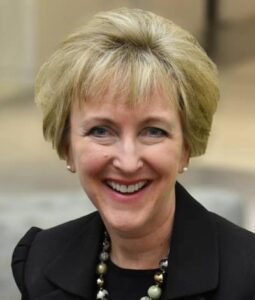 Sonja's research work covers global debt and sovereign debt policy issues, financial stability risks, sustainable finance, and capital markets development in emerging and frontier markets. She oversees the IIF's Weekly Insight, which offers a concise perspective on global financial markets in the context of topical economic and political developments, and the quarterly Global Debt Monitor, which looks across mature and emerging economies for debt-related vulnerabilities such as the rapid buildup in EM corporate debt levels. Sonja leads IIF policy work on sustainable finance and infrastructure investment, including advocacy and liaison efforts vis-à-vis the G20, the multilaterals and the international regulatory community.
Sonja has spent over 20 years in banking and financial markets, most recently with Nomura International in London, where she was Chief Equity Strategist. Previously she was Head of East European Economics and Senior European Bond Analyst, also for Nomura. Earlier positions included stints as a U.S. economist and bank credit analyst in New York and Los Angeles. She has taught undergraduate microeconomics at U.C. Berkeley, and spent several years with the Berkeley-Stanford Program on Soviet International Behavior. Sonja's work is widely cited in the financial press, including Bloomberg, the Wall Street Journal and the Financial Times; she is a regular speaker at industry conferences and a frequent commentator for financial television and radio.
There were no results found.