There were no results found.
There were no results found.
Rob Brown, Ph.D., CFA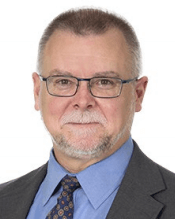 Rob serves as the Chief Investment Officer for Integrated Financial Partners in Waltham, MA.  He is a member of IFP's senior executive management team and the Chairman of the IFP Investment Advisory Board.  Rob leads the conception, design, construction, delivery, support, and evolution of IFP's enterprise-wide, institutional-quality investment management solutions.  Rob is an industry veteran with over three decades of experience leading portfolio management for large, sophisticated foundations, endowments, pensions, ultra-high net worth individuals, and private wealth clients.
Prior to joining IFP, Rob served as the Chief Investment Officer for United Capital ($21 billion AUM); GE Private Asset Management ($7.5 billion AUM); and The Arizona Public Safety Personnel Retirement System ($7.5 billion AUM).
Previously, he also served as Managing Director of Investment Strategy and Research at Benchmark Plus Management, a Hedge Fund, and fund-of-fund with $2.3 billion deployed across a full range of domestic hedge fund strategies (relative value, event, directional, momentum, idiosyncratic).  Rob has also held senior-level investment leadership roles with the CFA Institute (over 145,000 members); SEI, Inc. (over $300 billion AUA); and Cambridge Associates, LLC (over $300 billion AUA).
Rob has extensive experience with manager due diligence, selection, and monitoring – having invested many tens of billions of dollars spanning nearly all areas of alternative investments (including venture capital, infrastructure, private equity, reinsurance, alternative lending, variance risk, distressed credit, structured credit, synthetic credit, bricks & mortar, hedge funds, and derivatives, both domestic and international).  Rob takes a consultative, educational approach to all engagements and interactions, he has a unique ability to adjust the technical level and chemistry of dialogue to fit the audience and to make the complex, remarkably intuitive and straightforward.
Rob's education includes an AB in Mathematics & Economics from Oberlin College, an MA Economics from the University of Maryland, as well as an MA Economics and PhD in Finance from the Northwestern University Kellogg School of Management.  He holds the Chartered Financial Analyst (CFA) designation, and is a member of the Financial Planning Association, Financial Management Association International, CFA Society of Colorado, CFA Society of Dallas/Fort Worth, and CFA Society of Los Angeles.
He is an editorial board member for both the Journal of Investing and also for the Journal of Finance and Market.  Rob's publications have appeared in the Journal of Derivatives and Hedge Funds, Journal of Financial Planning, Journal of Investment Consulting, Pensions & Investments, FA Magazine, RIA Central, On Wall Street Magazine, Bank Investment Consultant, InvestmentNews Magazine, and the Financial Times.