Patricia Haas Cleveland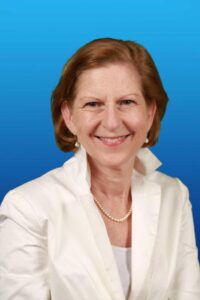 Patricia Haas Cleveland is President for US operations at the Official Monetary and Financial Institutions Forum (OMFIF). She assumed this role in spring 2019 as part of OMFIF's global expansion initiatives, after previously working as US Principal to help launch OMFIF's US efforts. Haas Cleveland began her career as an international economist at the US Treasury in Washington before moving to London where she headed Budget, Financial Policy and Strategic Planning at the European Bank for Reconstruction and Development (EBRD). She then joined Lehman Brothers as head of the European Corporate Advisory Division and subsequently moved to New York and headed Lehman Brothers' Capital Markets Prime Services Strategic Advisory Group for hedge fund clients. Later she joined Citigroup as a managing director in their Institutional Clients Group focusing on development banks, before serving as financial adviser to the Asian Infrastructure Investment Bank (AIIB) in Beijing during its pre-launch stage.
There were no results found.