Mathias Strohfeldt, CFA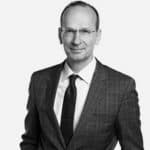 Mathias Strohfeldt, CFA, serves as a senior generalist analyst as well as covers the utilities, large cap Energy, Chemicals, Metals & Mining and E&C sector across all of the Main Street Team's products. In addition Mathias is the macro analyst for the team and runs a small value sleeve of 40-50 stocks across all sectors. Prior to joining the Firm in 2015, he was a research analyst at Franklin Templeton Investments where he covered the utilities, banks, software and energy services industries. Before that, he was a research analyst at RCM, part of Allianz Global Investors.
B.S. from Drexel University

M.B.A. from University of Cambridge
May 2019
Please join us for the third lecture as part of the CFANY Value Investing Group Education Workshop, exploring some of value investing's most important influencers of the past and present. In this lecture/workshop, Jose Garza will be exploring the teachings of Mario Gabelli.
Find out more »
Wednesday, May 22 | 6:00 PM
-
8:00 PM
September 2019
This workshop will be exploring methods of conducting advanced financial research and lays out Cheryl Strauss Einhorn's AREA Method and her latest book. The decision-making system Cheryl developed uniquely controls for biases, focuses on the incentives of others and expands knowledge while improving judgment. This can be applied both to investigating complex financial situations as well as investigative journalism.
Find out more »
Monday, September 16 | 6:00 PM
-
7:30 PM
+ Export Events