There were no results found.
There were no results found.
Mark Howard, CFA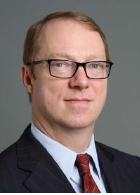 Mark Howard, CFA, is a Managing Director and Senior Multi-Asset Specialist at BNP Paribas. In this capacity, he promotes the bank's fundamental analysis, unique data, quantitative models and bespoke events to provide differentiated insights for a select group of its customers. In addition, Mark drives initiatives which help to connect institutional clients directly with BNP Paribas' researchers, product experts and traders, showcasing their insights and expertise.
Previously, Mark spent 5 years at Barclays Capital, where he was a Managing Director and held the roles of Co-Head of Global Research and Head of Credit Analysis. At Barclays, he was active in a range of firm-wide initiatives as a member of the firm's Management, Recruitment and Diversity committees.
Prior to joining Barclays in April 2004, Mark was at Lehman Brothers for 18 years, where he was a Managing Director and Global Credit Strategist. In that capacity, he was responsible for the firm's high grade, high yield, emerging market and credit derivative strategy teams. As an active researcher, Mark has been recognized as a fixed income 'All American' by Institutional Investor magazine 11 times, including first place rankings in 7 of those years.
Mark received his MBA in Finance from New York University and his bachelor's degree in Economics from Colby College. He chairs the University College London's Friends and Alumni Association Board and serves on the Investment Committee for the Maine Community Foundation. He is a Director and past President of the New York-based Fixed Income Analysts Society, a Director of the Friends of IHES (France) and was formerly an Overseer of the Board of Trustees of Colby College from 2009-15