Lekha Nair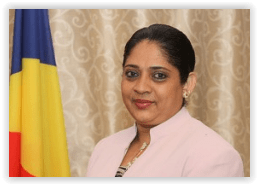 Mrs. Lekha Nair was born on 17th October 1963. She is married and has a daughter. Mrs. Nair did her schooling at the Regina Mundi Convent, Seychelles. She holds a Bachelor of Commerce-B Com in Accounting and Commerce from St Teresa's College in Kerala, India as well as a Master of Science in Public Finance from Leeds Metropolitan University in United Kingdom.
In 1979, she joined the Ministry of Finance in her first job as an Internal Audit Assistant, and from there she worked her way up within the Ministry completing her studies in between. Over the years, she was promoted to various positions within this Ministry, including Chief Internal Auditor and Director General of Financial Planning.
In 2005, she was appointed as the Principal Secretary for the Ministry of Finance, the only woman to hold the post, where she played a key role in trade liberalisation and successfully formulated and implemented the fiscal, economic and trade policies as part of the economic development of the country. In 2008, Mrs. Nair was appointed as the first Chief Executive Officer of the newly created Public Officers Ethics Commission, where she set up the ethics framework in the public service to deter corruption, enhance good values and boost credibility in the public service.
She joined Air Seychelles in 2010 as the Director of Finance, leading the company's Finance Department and playing a strategic role in its most challenging times.
In April 01st 2012, Mrs. Nair was appointed Principal Secretary for President's Office Administration and Finance and was responsible for the day to day running and the smooth operation of the Office of the President.
From February 2015, Mrs Nair was made the CEO of Seychelles Pension Fund, where she is currently ensuring that the national pension service is modern and appropriate to the workforce of Seychelles and managing its prudent investments.
Throughout her career, Mrs. Nair has been on various Boards and Committees such as Nouvobanq, Public Utilities Corporation, Seypec, SIBA, Seychelles Pension Fund and Island Development Company to name just a few. She was also instrumental in setting up the National Tender Board. She is currently the Chairperson of the Development Bank of Seychelles and a Board Director of SACOS. The National Disaster Relief Fund is also under her chairmanship.
Mrs. Nair was also the Alternate Governor of World Bank and Alternate Governor of African Development Bank amongst others.
Outside work, Mrs. Nair engages herself in charity and voluntary work and is a member of the SOROPTIMIST International club of Victoria, an international charity organisation for professional women.
There were no results found.