Jessica Ground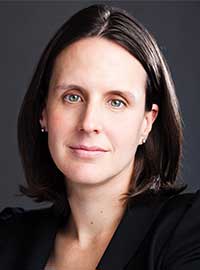 Global Head of Stewardship
Jessica Ground is responsible for the Sustainability strategy and global corporate governance at Schroders. She oversees the integration of ESG factors into investment processes across geographies and asset classes and leads a team of 16 dedicated ESG specialists. Jessica is also Chair of Schroder's Corporate Governance Committee.
Prior to this she was a fund manager for 10 years on the Prime UK Equity team managing institutional portfolios for a range of clients.
Jessica was a Research Analyst at Schroders from 1997 to 2006 covering pan-European financials and utilities.
She commenced her investment career when she joined Schroders in 1997 on the Graduate Program.
---
Qualifications
BA in History from Bristol University
Investment Management Certificate (IMC)
Associate of the CFA Society of the UK
Member of UKSIP
Industry Involvement
Board Member of the Investor Forum
Member of the IA Corporate Governance and Engagement Committee
Banking Futures project – Steering group member on this stakeholder engagement project on how to build a healthier, more resilient and inclusive banking sector
Other Industry Involvement
Women in Governance (2017) – spoke on a panel on how to engage on culture and effect change
Centre for Progressive Capitalism (2016) – spoke on a panel on improving corporate disclosure
PWC (2016) – spoke on a panel aimed at building public trust
Thomson Reuters (2016) – spoke on a panel on improving corporate disclosure
Deloitte Academy (2016) – provided training for non-executive directors on shareholder expectations
Ernst & Young (2016) – participated in a debate on a framework for long-term value creation
Financial Reporting Council (2016) – participated in roundtables and events on culture, and reporting for banks, technology, business services and extractive companies
There were no results found.