Jennifer Rynne, CFA
Jennifer M. Rynne, CFA
Managing Director and ESG Analyst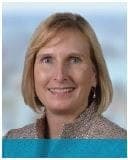 Jennifer is an environmental, social, and corporate governance (ESG) analyst who works closely with Wellington Management's portfolio managers and investment teams to help identify and assess ESG risks within the companies they hold in their portfolios. Prior to joining this team in 2017, she was a fixed income credit analyst reviewing electric and water utilities for the municipal bond group.
Before joining Wellington Management in 2011, Jennifer was a municipal credit specialist at State Street. Her other experience includes manager of the municipal bond research department at Eaton Vance (1991 – 2000), municipal bond analyst at Putnam (1988 – 1991), and research associate at Scudder (1986 – 1988).
Jennifer has a BA in economics (Phi Beta Kappa, cum laude) from Bates College (1986). Additionally, she holds the Chartered Financial Analyst designation and is a member of the CFA Institute and the CFA Society Boston.
There were no results found.