There were no results found.
There were no results found.
Jeffrey Cheah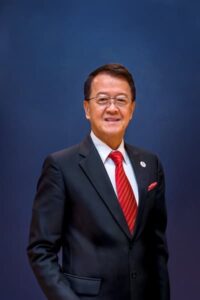 Entrepreneur and philanthropist, Tan Sri Dr. Jeffrey Cheah AO continues to make his mark by excelling in his two chosen spheres of contributing towards nation-building.
He is the founder of Sunway Group, one of Malaysia's largest conglomerates with core interests in real estate, construction, education and healthcare. Its 13 business divisions operate in 50 locations in the region, supported by a staff of more than 16,000.
In the realm of philanthropy, Tan Sri is the founder and trustee of Malaysia's largest education-focused social enterprise, Jeffrey Cheah Foundation (JCF). He had transferred his equity in the Sunway Education Group's (SEG) educational institutions which is worth several billion Ringgit, in perpetuity, into the JCF.
As of 2020, the Foundation has disbursed more than RM538 million worth of scholarships and grants. It is his aim to award over RM1 billion worth of scholarships in his lifetime.
Reflecting his life-long commitment to the sustainable development agenda, the Foundation also endowed USD10 million to the United Nations to establish the Jeffrey Sachs Center on Sustainable Development at Sunway University. In 2020, the Foundation committed another USD10 million for the next five years to advance the sustainability agenda in Malaysia and Asia. The Center is chaired by Professor Jeffrey D. Sachs, a world renowned economist and special advisor to the UN Secretary General and aims to create and deliver the world's best academic and executive programmes on sustainable development. The Center will also be a regional hub for research and policy practice, creating world-class programmes to train a new generation of students, practitioners and policy leaders; and develop linkages with major Malaysian and international universities in joint problem-solving around the Sustainable Development Goals.
The Center also serves as the host for SDSN Malaysia, aimed at elevating awareness and implementing sustainable solutions. In recognising his commitment to sustainability, the United Nations Sustainable Development Solutions Network appointed him as Chairman of its Malaysian chapter in 2019.
As a reflection of Sunway's full embrace of the sustainability agenda and commitment to advancing the SDGs in the Asian region, Sunway City Kuala Lumpur has been selected as one of the three overarching United Nations Sustainable Development Solutions Network (UN-SDSN) centres alongside New York City and Paris to coordinate continent- wide sustainability initiatives for Asia, the Americas and Europe as well as Africa respectively.
Tan Sri Cheah is also the co-chair of global initiative Mission 4.7, which was virtually launched by Pope Francis alongside world leaders at the Vatican in 2020. Mission 4.7 aims to accelerate the implementation of SDG Target which calls upon governments to ensure that learners acquire the knowledge, skills, values and attributes needed to achieve the SDGs.
Tan Sri has been conferred 11 honorary doctorates by leading universities worldwide, and is an Honorary Fellow of Cambridge and Oxford universities, as well as a member of Harvard University's Global Advisory Council. He is the chairman and co-founder of Asian Strategy & Leadership Institute (ASLI), a leading independent private think tank committed to the development of Asian leadership and strategic thinking.
He is the first Malaysian recipient of the Lifetime Achievement Luminary Award by Singapore-based Channel NewsAsia, and was named thrice as "Forbes Asia Hero of Philanthropy."
His honours include Order of Australia, conferred by the Australian Prime Minister.