There were no results found.
There were no results found.
James Russell Kelly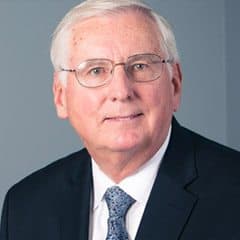 James Russell Kelly, the director of the Gabelli Center for Global Security Analysis, is a senior lecturer in finance at the Gabelli School of Business, where he teaches courses in value investing. He is also the instructor of Fordham University's Student Managed Investment Fund, a two-semester academic program. In this program, Gabelli School of Business undergraduates invest $2 million of Fordham's endowment in a global balanced fund consisting of all the major asset classes.
Professor Kelly has more than 30 years of experience in the international capital markets, including senior-level positions in international securities sales and trading at Merrill Lynch, where he was vice president of institutional sales; Deutsche Bank Securities, as senior vice president and manager of the international fixed-income sales and trading department; and Auerbach Grayson & Co., as executive vice president of equity emerging markets. While at Deutsche Bank, he also served as marketing director of Deutsche Bank Research, the bank's macroeconomic research institute. He has been teaching finance at Fordham continuously since 2002.
Professor Kelly holds a BA in economics from the University of Notre Dame and an MBA from Columbia Business School.