Hubert Danso
Hubert Danso,CEO and Vice Chairman, Africa Investor (Ai) Group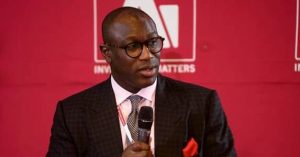 Mr Danso is the Chief Executive Officer and Vice Chairman of Africa investor (Ai) Group and is responsible for advising institutional investors, governments and development finance institutions on major infrastructure and private equity investments in Africa.
Mr Danso serves as the Chairman of the African Sovereign Wealth & Pension Fund Leaders Forum and Chairs the CFA New York Society, Global Asset Owners Advisory Board. He was also recently appointed as a Commissioner for the UN Blockchain Commission for Sustainable Development.
There were no results found.