There were no results found.
There were no results found.
Gary Shilling, Ph.D.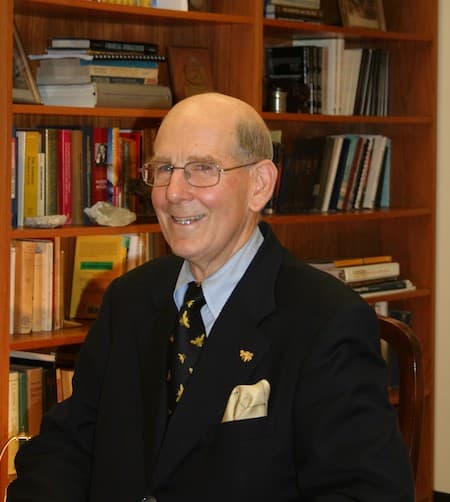 A. Gary Shilling, Ph.D., is an economic consultant and investment adviser as well as a long-time columnist for Forbes magazine. He is President of A. Gary Shilling & Co., Inc., an investment adviser registered with the State of New Jersey Bureau of Securities, and publishes A. Gary Shilling's INSIGHT, a monthly report of economic forecasts and investment strategies. Dr. Shilling is on Investment Advisor magazine's panel of investment strategists and is a columnist for Bloomberg View online. He has been a Forbes magazine columnist since 1983 and writes the "Financial Strategy" column.
He received his bachelor's degree in physics, magna cum laude, from Amherst College where he was also elected to Phi Beta Kappa and Sigma Xi. Earlier, as a high school senior, he ranked 12th in the nation in the Westinghouse Science Talent Search. Dr. Shilling earned his master's degree and doctorate in economics at Stanford University. While on the West Coast, he served on the staffs of the Federal Reserve Bank of San Francisco and Bank of America.
Before establishing his own firm in 1978, Dr. Shilling was Senior Vice President and Chief Economist of White, Weld & Co., Inc. Earlier, he set up the Economics Department at Merrill Lynch, Pierce, Fenner & Smith at age 29 and served as the firm's chief economist. Prior to Merrill Lynch, he was with Standard Oil Co. (NJ) (now Exxon Mobil) where he was in charge of U.S. and Canadian economic analysis and forecasting.
A frequent contributor to the financial press, he also appears on radio and television business shows. Recognized as an effective and dynamic speaker, he often addresses national and international business groups including the Young Presidents' Organization and the Bohemian Grove in a Lakeside Talk.
Dr. Shilling has published numerous articles on the business outlook and techniques of economic analysis and forecasting. His fourth book, Deflation: why it's coming, whether it's good or bad, and how it will affect your investments, business and personal affairs, was published in June 1998, and Korean and Chinese editions were published. Its sequel, Deflation: how to survive and thrive in the coming wave of deflation was published by McGraw Hill in July 1999 and was translated into a Chinese edition. His sixth book is Letting Off Steam – a collection of commentaries on matters great and small, complex and mundane, serious and frivolous. Dr. Shilling's best-selling book, The Age of Deleveraging: Investment strategies for a decade of slow growth and deflation, was published by John Wiley & Sons in late 2010. He is also creator of The Deflation Game, a board game that illustrates and reinforces his long-term forecast that deflation is a greater likelihood than a return to high inflation. Twice, the Institutional Investor magazine ranked Dr. Shilling as Wall Street's top economist and Futures magazine rated him the country's number one Commodity Trading Advisor. In 2003, MoneySense Magazine named him the third best stock market forecaster in the world, right behind Warren Buffett. He is recognized as an effective and dynamic speaker.
Dr. Shilling's outlook for 2008 was extremely accurate, and all 13 of his investment strategies published in his January 2008 Insight worked. The random odds of batting 13 for 13 are one in 8,192.
Dr. Shilling is on the Board of Directors of Project Apis m., the Episcopal Preaching Foundation, Inc., of which he is Chairman, and is an Advisory Director of Austin Trust Company. In 1999, he was awarded an honorary Doctor of Law by Tiffin University and in 2006, an honorary Doctor of Humane Letters by Church Divinity School of the Pacific. In 2008, Dr. Shilling was awarded an honorary Doctor of Humane Letters by Berkeley Divinity School at Yale and in 2009, an honorary Doctor of Canon Law from the University of the South (Sewanee). In 2016, he received an honorary Doctor of Divinity degree from The General Theological Seminary (NYC).
He is a former member of the New York Stock Exchange and a former Director of the American Republic Life Insurance Co. of N.Y., the Henry H. Kessler Foundation, Inc., The Episcopal Church Foundation, Kent Place School, National Life of Vermont, the American Productivity and Quality Center and Aim Packaging, Inc. He served as Trustee and Treasurer of the General Theological Seminary (Episcopal), Chairman and Trustee of the New Jersey Shakespeare Festival, Trustee of Bates College, and Director of the Heartland family of mutual funds. He was also formerly a member of the New York Society of Security Analysts and an Associate Editor of Business Economics (The Journal of the National Association for Business Economics). He was Chairman of the New Jersey State Revenue Forecasting Advisory Commission. He earlier served as a member of the National Commission on Jobs and Small Business. Dr. Shilling was an informal economic advisor to President George H. W. Bush, and has testified before various Congressional committees including the Joint Economic Committee and the House Banking Committee. He has been an Executive in Residence at Tuck School of Business at Dartmouth College and at Sewanee: The University of the South (Sewanee).
He is also an avid beekeeper.