There were no results found.
There were no results found.
Edward O'Loghlen, CFA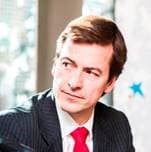 Edward joined Caixabank in 2007 and is currently responsible for the Investor Relations function at the bank. CaixaBank is the largest domestic bank in Spain and one of the Top 10 Eurozone banks by market capitalisation.
Prior to this role he ran one of the two Corporate Banking Units in the Group and previously he had been in charge of reorganising and operating a newly established international branch network.
He has over 26 years of work experience in investor relations, structured finance, credit analysis, and client relationship management in the US, UK, and Spain.
Before joining CaixaBank, Edward worked in Corporate Banking at Barclays Bank, ING Bank and in the Global Financial Institutions department of the International Finance Corporation (IFC) in Washington DC.
Other prior experience includes employment with Enron Broadband Services in London and Banco Santander in both Madrid and New York.
Edward holds a business administration degree from ICADE in Madrid, an MBA from IMD in Lausanne, and is also a CFA Charterholder. He also gradurated from the GMP programme in Harvard Business School.