David J. Breazzano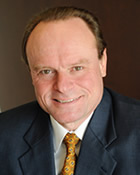 Mr. Breazzano is a co – founder of DDJ and has more than 40 years of experience in high yield, distressed, and special situations investing. At DDJ, he oversees all aspects of the firm and chairs the Management Operating, Remuneration, and Investment Review Committees. In addition, Mr. Breazzano serves as co – portfolio manager of DDJ's U.S. Opportunistic High Yield and Upper Tier U.S. High Yield strategies. Prior to forming DDJ, from 1990 to 1996, he was a vice president and portfolio manager in the High – Incom e Group at Fidelity Investments, where he had investment management responsibility for over $4 billion in high yield and distressed assets. Specifically, he was a portfolio manager of the Fidelity Capital & Income Fund, which was one of the largest high yi eld funds in existence at that time. In addition, Mr. Breazzano co – managed the distressed investing operation at Fidelity.
Prior to joining Fidelity in 1990, Mr. Breazzano was a vice president and portfolio manager at T. Rowe Price Associates. Before joi ning T. Rowe Price in 1985, he was a high yield analyst and vice president at First Investors Asset Management, which had over $1 billion in high yield assets under management. Mr. Breazzano began his professional career at New York Life as an investment a nalyst.
Mr. Breazzano is the author of the chapter entitled "Distressed Investing" in Leveraged Financial Markets: A Comprehensive Guide to High – Yield Bonds, Loans, and Other Instruments and co – author of the chapter entitled "Trading in the Distressed Mar ket" in Investing in Bankruptcies and Turnarounds. Mr. Breazzano serves as a member of the board of directors for the Children's Trust Fund following his appointment by Massachusetts Governor Charlie Baker in 2016. He received his MBA from the Johnson Scho ol at Cornell University where he currently is a member of the university's board of trustees. Mr. Breazzano graduated cum laude with a BA from Union College, where he also currently sits on its board of trustees
There were no results found.