Ashvin Chhabra, Ph.D.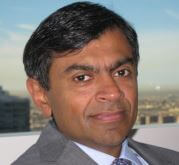 Ashvin Chhabra is President and Chief Investment Officer of Euclidean Capital– a New York based family office for James H.Simons & Marilyn H. Simons. The Simons Foundation is dedicated to advancing research in mathematics and the basic sciences. It is currently one of America's two or three largest private funders of these areas.
Prior to his current position, Dr. Chhabra was Chief Investment Officer for Merrill Lynch Wealth Management from 2013-2015 and Chief Investment Officer at the Institute for Advanced Study, Princeton from 2007-2013. Ashvin is also the author of The Aspirational Investor, published by Harper Collins in 2015. Dr. Chhabra is a member of the investment committees of the Stony Brook Foundation, Institute for Advanced Study and Rockefeller University. He has lectured at Yale University, Carnegie Mellon University, Baruch College CUNY, and the University of Chicago.
Ashvin holds a PhD in applied physics from Yale University in the field of non- linear dynamics (Chaos theory).
There were no results found.