The first panel was Women in FinTech, where the panelist agreed that the difference in leadership positions in FinTech do have a bias, but they never want to be noticed and recognized for being a woman. They are combing their knowledge of the industry and blending it with tech and aspire for moonshot success, just as any man in the industry.
Said Irina Tanenbaum, Director of Investment Research at Artivest "We have over 30 employees with women leading multiple areas including Research, Business Development, and Operations. In addition, our COO is a woman."
Explained Sara Malak Managing Member of ClearVest, "There is a need for women to be recognized and noticed. But I never want to be noticed and recognized for being a woman; but for my work. And it's hard to find the middle ground. I'm sure those on the panel have gone into a meeting and had someone say, 'I'll have a coffee with milk." We have a 50 50 split in our firm with women in senior positions."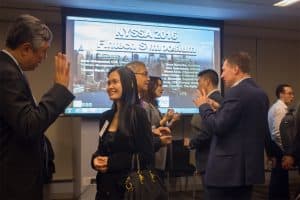 Ventured Monel Amin, founder of DiligenceVault, "Investment and Wealth industry is fragmented, quite reliant on manual efforts, and somewhat behind in tech adoption. Fintech firms with game changing products and services are leveraging data and technology in creating platforms around access / distribution, creating productive capacity by automating repeatable and manual processing, and support superior decision making by underwriting machine intelligence."
Shifting to the future of fintech, Anna Garcia, a partner with Runway Venture Partners said, "In the past few years since the financial crisis and particularly in New York, there has been an enormous amount of capital poured into the early stage world. This is true for fintech but also true for startups. And if you pick a winner, the returns are very attractive."
Explained Justin Brownhill, Managing Partner of SenaHill Partners, LP, "Five years ago, Venture capital totaled five billion in fintech. In the last two years, it has reached $20 billion globally. The breakdown is divided equally between Silicon Valley, New York City; Europe and the rest of the world. There have been fintech start-ups in the past few years that haven't performed particularly well. On Deck, Lending Club and Square to name three. I believe these are early stage hiccups. Financial services is a one trillion dollar industry. Fintech will soon be the same."
Said Adam Plotkin, a partner at ff Venture Capital "A major impetus in having these firms being launched was the reduced cost. In the first dot com era, massive amounts of server space and infrastructure was needed. And having physical proximity to investors in Silicon Valley was important."
"In New York," continued Plotkin, "a confluence of a number of factors aided in luring a very talented supply of engineers. These people had tech jobs on Wall Street which were no longer needed. But they had an opportunity to use their experience and knowledge to starting new companies. And when Google and Facebook came to New York that was huge. It attracted people out college interested in starting companies. And the angel and VC hooks were already here to make investments and offer advice."
"I have 4 employees who were with Goldman Sachs," said Divya Narendra. CEO & co-founder of SumZero. "There is a certain excitement to fintech. It is tech but New York is also home to asset management and investment banking, so it is a great intersection. With Trump in office, there is a change in the tenor of regulation. Banks have benefited after the election in ways no other industry has. Within six months to a year, we will see what regulatory turbulence happens, New York will be affected more than any city. Some of those will be cost focused. How reducing regulation can save money in terms of legal and compliance."
"There are three types of innovation we see in fintech," said Garcia "The first is product innovation; which the financial services industry has been good at. I believe regulation has put much of it on the back burner. In the past few years, banks have had to spend their resources on legal and compliance. That doesn't excite venture capital. Block chain has the promise of extra security and efficiency. But it isn't anything the financial services industry will adopt anytime soon."
Said Brownhill, "Goldman Sachs recently put blockchain on its game changing list. I believe blockchain is a disruptive technology and a huge efficiency; which is why you need to do it. If blockchain is adopted and utilized industry wide, it will allow an issuer to negotiate and be able to continue the processing of their transaction with the investor; with no middleman. But you still need an investment banker up front. The secondary market will be more efficient. Transparency will be there and the regulators will love it. I guarantee there is a Fortune 100 company that is contemplating doing the next $500 million debt deal with $400 million the old fashioned way and $100 million the new way."
"The earliest discussions about blockchain and crypto currency was about substitution of the original banking system using an alternative form of payments," said Plotkin. "That wasn't exciting for me. Blockchain allows the elimination of certain risks to the industry in trade clearance. But I'm concerned about more powerful computers and quantum computing."
"I expect blockchains to lower costs," said Narendra. "The debate might be about how long it will take. But there might be far more interesting uses for blockchain technology than helping banks cut costs. I can see settlement of all kinds of trading happening through various sorts of distributed ledger technology."
Carole K. Crawford, CFA, Managing Partner of fincap360, commented, "The large turnout and enthusiasm in the room suggests members are excited to embrace innovation. The Fintech Thought Leadership Group invites CFANY members from all areas of investment management to join us as we unlock the potential of Fintech."
by Steven Viuker
Women in Fintech
Monel Amin, Founder, DiligenceVault
Irina Tanenbaum, Director of Investment Research, Artivest
Sara Malak, Managing Member, ClearVest, Co-Founder, The Alpha Cooperative
Moderator: Maria Weitzer, CFA, Director, Portfolio Management at TAG Associates LCC
Future of Fintech
Anna Garcia, CFA, Partner, Runway Venture Partners
Divya Narendra, Founder, SumZero
Justin A. Brownhill, Managing Partner, SenaHill Partners, LP
Adam Plotkin, Partner, ff Venture Capital
Moderator: Thomas Marsh, Director, Spence Johnson
This is an installment of the CFANY Innovators and Disruptors series that plans to cover and promote issues relating to innovation in the financial services sector.