About $470 Billion in AUM, roughly 1/8th of total US Public Pension AUM, was represented at CFANY's 1st Annual US Public Pension Funds Conference.
The CFA Society New York (CFANY) hosted the 1st Annual US Public Pension Funds Conference on September 8, 2016. This is the 7th highly successful program in the Asset Owner Series with presenters representing US public pension plans who oversee $470 billion in AUM, or roughly 1/8th of total US Public Pension AUM. The Asset Owner Series has already hosted senior investment industry leader attendees and speakers who directly and collectively oversee over $9.0 trillion in AUM across Insurance, Family Offices, Endowments, Foundations, Private Banks, Public Pensions and Corporate Pensions.
According to the latest study done by the PEW Charitable Trusts, the nation's state-run retirement systems had an estimated $934 billion funding shortfall in fiscal year 2014. While many states have enacted reforms since the financial crisis to address funding shortfalls, the under-funding issue persists and will likely remain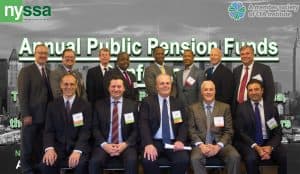 challenging in the future, resulting in ongoing pressures on state and local government budgets.
The discussion tackled the challenges confronting US public pension systems, starting with a keynote by Tom Byrne, Chairman, New Jersey State Investment Council. Mr. Byrne discussed the challenges facing the state of New Jersey as one of the most underfunded public pension systems in the U.S. He further discussed asset allocation strategies with a focus on the allocation and recent changes made to alternative investments, cost-saving measures introduced by the pension commission as well as longer-term considerations such as revising the actuarial rate of return assumption.
The keynote was followed by a panel discussion featuring James Celestine, Director of Real Assets, Pension Investment and Cash Management, Office of the New York State Comptroller – New York State Common Retirement Fund; Kevin Higgins, Real Estate Portfolio Manager, New Jersey Division of Investment; Sanford Rich, Executive Director, CIO, New York City Board of Education Retirement System and Kirk Sims, CFA, Investment Officer, Emerging Manager Program, Illinois Teachers Retirement System. The panel was moderated by David E. Ourlicht, Founding Board Member of the New York City and State Pension Systems (NYPERS) and Commissioner of the New York State Insurance Fund. The panelists presented their views on asset allocation in current low-rate environment, risk management, consideration surrounding management fees. They tackled governance issues as it remains one of the most important factors necessary for successful pension fund management. The panelists further debated on active vs passive management for traditional asset classes and discussed the role of consultants in the US public pension world and the extent to which they engage consultants in investment decision making process.
CFANY's Asset Owner Series includes 10 evening programs in 2016 featuring asset owner CIOs who collectively oversee roughly 10 trillion assets. The Series will culminate with an Asset Manager CIO Roundtable featuring roughly 10 trillion in direct AUM oversight. According to OEDC and World Pensions Council estimates, there is approximately $95 trillion in institutional investor (asset owner and asset manager) AUM globally. CFANY's Asset Owner Series will feature industry leaders who collectively and directly oversee roughly $20 trillion in AUM, or more than one-fifth of total institutional assets globally.
The Series is being spearheaded by volunteer leaders Thomas Brigandi, who founded the Asset Owner Series for CFANY; Deepika Sharma, CFA; Patrick Holert, CFA, CAIA; Jae Yoon, CFA; Roberto Peralta, CFA; Michael Oliver Weinberg, CFA; Robert Discolo, CFA, CAIA; Maria Weitzer, CFA; Alan Fields, CFA, CAIA, CPA; Kevin Maxwell, CFA; Evelyn Yeow, CFA; and Christopher Cutler, CFA.
The 1st Annual US Public Pension Funds Conference was a record-breaking event for CFANY, as the event represented the first time in recorded history that a CFANY volunteer organized their 40th CFANY event. Over the last four years, Thomas Brigandi has spearheaded the organization of 40 CFANY events, which have been attended by over 7,000 investment professionals and over 275 speakers, who collectively and directly oversee over $12 trillion in AUM.
About CFANY
With a membership of nearly 9,000, the CFA Society New York, Inc. (CFANY) is the largest CFA® society in North America and a founding member of CFA Institute. Founded in 1937 by value investing pioneer Benjamin Graham, CFANY is a leading forum for the financial services industry and a provider of professional education and career development. In addition to delivering more than 200 events annually for its members, investment professionals and the general public, CFANY prepares hundreds of candidates to obtain the Chartered Financial Analyst® (CFA) designation. CFANY is committed to promoting best practices and the highest ethical standards in finance. Visit www.cfany.org for more information.