On Thursday, November 10, CFANY held its "Thinking Beyond the Transition" event. The event was organized by CFANY's Veterans Roundtable, whose mission is to establish the foundations from which military veteran members may achieve leading positions in the financial world. The event brought bring together experienced Wall Street professionals and transitioning military persons for a discourse on how to keep prior military talent engaged, while providing organizations with the insights to reap the benefits. The night featured keynote speaker Ken Marlin, moderator Amanda Veinott, and panelists Melissa Castello, George O'Garro, and Dave Palamar.
Ken Marlin, CEO of Marlin & Associates, began by reassuring everyone that the transition from the military, to civilian work is not easy and that people just don't get it. It is a step backwards in terms of responsibility. Many veterans find themselves moving from leadership positions, where they were entrusted with key tasks, to a position with much less leadership roles. To make this transition easier, "the single most important thing to look for is an organization in which you fit, and that is growing, and has a boss that respects you." An environment with these three qualities can best utilize a veterans traits. Veterans have a unique perspective from their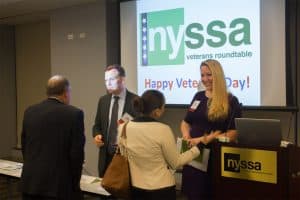 training during service. They learn to understand the value of having a strategic objective. The mentality that all actions must be defined around how they fit into that strategic objective and the desire to question those tactics that don't fit into that strategic objective, provide veterans with an effective and profitable way to approach work in business. He ended with the thought that "Discipline is doing the right thing for the right reasons, every time with no excuse."

It is very important to be introspective following the end of service in order to figure out which path works best for you according to George O'Garro, VP at Goldman Sachs. Doing so will help you understand what kind of jobs you will be good at and what will make you happy. Military recruiters often overlook this process. They merely look at what tasks you did in the military and try to stick you in a profession where you will be doing the same tasks. "Be wary of them." You must realize that you have a lot of skills that can be applied across almost any industry. "Don't let someone tell you what you can or cannot do." Instead, pursue what will fulfill you and do something you can thrive in.
Dave Palamar, Managing Director for J.P Morgan Chase Securities INC., advised the audience that the first objective after getting out of service, is to understand what it takes to do the job that you want to do. By doing so you can figure out how to present the skills you acquired in service in a way that is applicable to the job. Leadership, cooperation, inspiration, politeness, and individuality are all traits taught in service that are desirable in the finance industry. When looking for work it is crucial to reach out to professionals in the industry you want to go into. You should contact 20-25 people and ask them what their job entails, what their day to day is like, and what they like and dislike about their job. Focus on learning the categories of jobs under that profession, the types of people you will be dealing with at each job, the jargon used in that profession, and know current events specifically as they apply to that industry. By the end of this process, if you engage with 3 to 5 firms, you will be in a competitive position to acquire a job.
There is a big disconnect because a lot of HR professionals don't know the military jargon found on a most veterans' resumes according to Melissa Castello, Senior HR at Oppenheimer. The way forward needs to be a "two way street." Veterans must try to present their experience not in ways understood and appreciated by military personnel, but in language accessible to everyday people. A good way to accomplish this is to ask civilian family and friends to go over your resume and to see if they understand it. Corporations too must work on being more understanding of veterans' resumes. This will often times mean going through a resume line by line and asking questions about the terms and experience they don't understand.

Amanda Veinott, Founder of Women Veterans on Wall Street and Miligistix LLC, urged the importance of using LinkedIn properly. "If someone sends you a message, respond to them. If someone looks at your profile, reach out to them." Recruiters that are looking at your profile or are messaging you are interested in you as a potential hire. Take advantage of this platform and use it to network and find potential job prospects.
Ultimately, military veterans are an attractive employment opportunity in the finance world. Their discipline, morals, leadership skills, and work ethic are highly desirable. By better understanding what veterans are looking for in a job, and what corporations are looking for in an employee, both veterans and businesses will be better able to make use of their unique perspectives.
by Chris Angelidis