It was a privilege to chair "The Annual Benjamin Graham Conference" held at the CFA Society New York (CFANY), co-sponsored by Kahn Brothers Group and Wiley, on June 29, 2016. My personal admiration for Benjamin Graham started as a CFA candidate and continued at Columbia University. I completed an MBA at Columbia Business School, where Benjamin Graham was a professor nearly a century ago and Graham is attributed to be the first to have written and espoused a certification program for security analysts, what would become the CFA program.
At Columbia my favorite course was the legends of value investing. In this course, the best value investors came in as visiting guest lecturers. The lecturers included Seth Klarman of The Baupost Group; Warren Buffet of Berkshire Hathaway Inc.; Michael Price of MFP Investors LLC; Mario Gabelli of GAMCO Investors, Inc.; Chuck Royce of Royce & Associates LLC; Glenn Greenberg of Chieftan Capital Management; and many other world class value investors.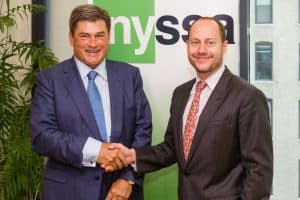 The course was so inspirational that it inspired myself and a fellow classmate, Karl Mergenthaler, to create an investment course at Columbia Business School that we are now in our fifth year of teaching. It similarly showcases many of the next generation of great value investors. Our visiting lecturers have included David Einhorn of Greenlight Capital; Scott Bessent of Soros Fund Management LLC; Jon Pollock of Elliot Associates Corp.; and some of the keynotes that lectured at our conference, such as John Bader of Halcyon Capital Management, LLC.
In my 1951 Third Edition of Security Analysis, Graham and Dodd explicitly thank Walter Schloss in their preface. We are proud to have had Edwin Schloss, Walter's son as a panelist at the conference, continuing the legacy of value investing nearly a century after its inception.
In the book they discuss themes including the possibility of a Third World War and the choice between securities and paper money. In today's era of Brexit and Global Quantitative Easing these issues are no less topical now, 65 years later. In fact, we had Jim Grant opine on this very topic at the conference.
I'd like to profer brief takeaways from each keynote speech and panel for those that were not able to join us.
Thomas A. Russo of Gardner Russo & Gardner LLC's keynote highlighted the risk to the global economy of global trade winds shifting towards protectionism. He also focused on the potential impacts of e-commerce and the millennial generation on consumption.
Next, was the panel that I moderated on Buffett's Rule No. 1, Never lose money, with John Andrew Levin of Levin Capital Strategies, L.P.; David Poppe of Ruane, Cunniff & Goldfarb, Inc.; and Seth Turkeltaub, CFA of Catapult Capital Management, affiliated with Millennium Management LLC. In Security Analysis there is a considerable allocation of text to utility analysis. There was unanimous consent on our panel, including myself, that long-term the public utilities model is threatened by alternative energy, including solar and wind.
The panel on Margin of Safety with Jason Karp of Tourbillon Capital Partners, Leon Cooperman of Omega Advisors, Inc. and Brian Gillot of Jennison Associates LLC followed. Quality, dividend yield, safety were deemed factors that are dramatically over-priced due to market participants' aversion to risk. Share repurchases should make sense, and be at low valuations, not high valuations, irrespective of their off-setting options related to dilution.
The panel on investment mistakes included Paul Lountzis of Lountzis Asset Management, LLC; Edwin Schloss of Walter & Edwin Schloss Associates; and A. Michael Lipper, CFA, of Lipper Advisory Services, Inc. Not unamusingly a conclusion was that big losses start with big profits, i.e. Valeant Pharmaceuticals International Inc. One must also understand what can go wrong and the downside.
John Bader of Halcyon Capital Management, LLC did an afternoon keynote. His view is that risk arbitrage is interesting currently, a view I share with him. And that Brexit will create opportunities in value and distressed European securities.
The downside protection panel was with Miguel Fidalgo of Triarii Capital; John Spears of Tweedy, Browne Company LLC; and Steve Bregman of Horizon Kinetics LLC. A primary take-away was that indexation has changed the clearing prices of stocks. The market has become bifurcated with index stocks, over-valued and non-index stocks under-valued.
Jim Grant's concluding keynote was not to be missed. There have not been negative interest rates in 5,000 years of human history, and now for the first time they exist. There is nearly $12Tn of negative return securities that are perceived to be permanently safe. I was just in Rome last week and look forward to Jim's sarcastic joke on the improbability of Rome returning to its glory days, despite the incredible faith the bond market has in it.
Lastly we could not have done the conference without the support of Daniel Dagen, CFA, the CEO of CFANY, and Harumi Urata Thompson, CFA, the COO of CFANY. Elliot Trexler and Vishal Mishra, my vice chairs of the Value Investing Thought Leadership Group, were integral as well. Patrick Holert, CFA, CAIA; Thomas Brigandi and Christopher Cutler, CFA's support were much appreciated. And last but not least we could not have done it without all of the CFANY members who sat through ten hours of content and the aforementioned panelists.
About CFANY
With a membership of nearly 9,000, the CFA Society New York, Inc. (CFANY) is the largest CFA® society in North America and a founding member of CFA Institute. Founded in 1937 by value investing pioneer Benjamin Graham, CFANY is a leading forum for the financial services industry and a provider of professional education and career development. In addition to delivering more than 200 events annually for its members, investment professionals and the general public, CFANY prepares hundreds of candidates to obtain the Chartered Financial Analyst® (CFA) designation. CFANY is committed to promoting best practices and the highest ethical standards in finance. Visit www.cfany.org for more information.
Social media links:
Facebook: https://www.facebook.com/CFASocietyNY/
Twitter: https://twitter.com/CFANewYork
LinkedIn: http://www.linkedin.com/company/nyssa
Instagram: https://www.instagram.com/cfasocietyny/