Vinay Pande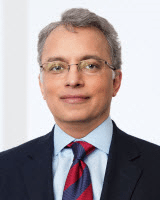 Vinay Pande joined UBS from Brevan Howard US Investment Management LP where, since 2012, he had been Partner and co-manager of the Brevan Howard Strategic Macro Fund. For the six years prior to that, he served as a managing director and Chief Investment Advisor at Deutsche Bank Global Markets.
Vinay spent 13 years in senior portfolio management and proprietary trading roles at Caxton Associates, Goldman Sachs, Credit Suisse and JPMorgan Chase. He started his investment career at the World Bank, working there for eight years and rising to Chief Investment Officer of the Investment Department.
Vinay graduated from University of Pennsylvania, Wharton School, with an MBA and holds an M.A.in Economics from the University of Bombay.
There were no results found.