Sofiane Belmiloud, CFA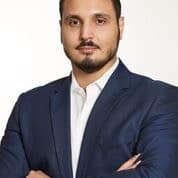 Sofiane joined the FAIRR Initiative as Investor Outreach Manager in July and is responsible for engaging with the capital markets stakeholders to raise awareness about the risks and opportunities in the global protein supply chain. He heads FAIRR's work in Francophone countries, as well as collaborating on outreach in other global markets. Prior to joining FAIRR, he worked as a Senior Investment Advisor at Deutsche Bank Asset and Wealth Management in Dubai where he was responsible for advising family office and institutional clients on their strategic multi-asset investment allocations. Sofiane also has eight years of additional financial market experience as a FX Portfolio Manager for a Swiss private bank and in Interest Rate Derivatives Sales for BNP Paribas.
Sofiane holds an MSc in International Strategy and Diplomacy from the London School of Economics and is a CFA charterholder.
There were no results found.