There were no results found.
There were no results found.
Sandra Ro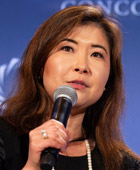 Sandra is a proponent for 'human-centric tech'. She left a career in derivatives, investment banking and currency markets to focus on emerging technologies for sustainability, access, and resiliency, particularly in financial systems. She is an early investor in, and an advocate of crypto and digital assets. Sandra currently serves as the CEO of the Global Blockchain Business Council (GBBC), a Swiss-based non-profit consisting over 270 institutional members, 130 ambassadors across 76 jurisdictions and disciplines, as well as an angel investor in emerging technologies, Board member, advisor, keynote speaker and cofounder of several start-ups, non-profits, and key blockchain industry networks.
Sandra is currently a Board director of Global Digital Finance (UK), NYS Senate appointee on the New York State Digital Currency Task Force, Fintech Advisory Council of Astana International Financial Center (AIFC Kazakhstan), Board Treasurer of BitGive Foundation, a member of EU Public Funds and New Green Economy Consortia, Chair of Open Impact Foundation (Switzerland), Advisory Board of Filecoin Foundation, Health Tech Chair of Yale Alumni Health Network (YAHN), a member of the World Economic Forum's Digital Currency Governance Consortium (DCGC) and the US Department of State Speakers Bureau, Standards, International Securities Services Association (ISSA).
Whilst at CME Group, Sandra founded and led Digitization, developed the CME CF Bitcoin pricing indices, followed by the CME Bitcoin Futures and DLT solutions. Ro was a founding member of Enterprise Ethereum Alliance (EEA Board), Post Trade Distributed Ledger (PTDL) Group, Linux Foundation, Hyperledger, and GBBC Board. She holds six patents across derivatives, crypto and indices. Previously, she was a derivatives banker at Morgan Stanley and Deutsche Bank, based in London. She is a graduate of Yale University with a B.A. double major in (Military) History and Studies in the Environment, was a student of Computer Science at Columbia University's School of Continuing Studies, and is an MBA recipient in Accounting and Finance from London Business School.