John Strangfeld
CEO and Chairman (retired)
Prudential Financial, Inc.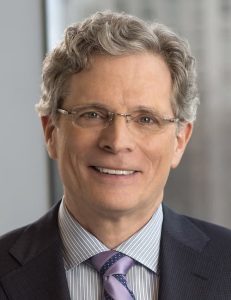 Prudential was founded in 1875 with the belief that financial security should be within reach of everyone. Over the last 140-plus years, this has remained its guiding principle as it has grown from a U.S. mutual insurance company into a global financial services leader.
John Strangfeld was elected as the company's Chairman and CEO in 2008. He announced his 2019 retirement in September 2018, and relinquished his role as CEO, effective December 1, 2018.  He remained as non-executive Chairman of the Board until April 5, 2019.
During his more than 10-year tenure as CEO, heestablished a clarity of focus on talent and culture as the key drivers of Prudential's innovation, execution and superior performance. The hallmark of the company's culture was the leader-led mantra of "no drama, low ego, high impact." This philosophy embraced the power and wisdom of teamwork and inclusion, which extends to Prudential's highly engaged and diverse Board of Directors.
Under Mr. Strangfeld's leadership, Prudential established itself as a premier provider of retirement, investment management and financial protection solutions for both individuals and institutions:
One of the largest life insurance companies—in both the U.S. and Japan
Among the top providers of workplace retirement plans and individual retirement income solutions
Innovative leader in pension risk transfer—more than $100 billion in completed transactions
One of the 10 largest global asset managers—approximately $1.4 trillion in assets under management as of December 31, 2018
International presence—nearly 50 percent of the company's operating earnings and employees are outside the U.S.
As the world population ages and social safety nets shrink, Prudential not only has broadened its financial offerings, but also has emerged as a leader in corporate social responsibility and impact investing. Prudential is proud to have earned the No. 1 ranking in FORTUNE®magazine's 2019 listing of the "World's Most Admired Companies®" in the "Insurance: Life and Health" category. The company has held the top spot in this annual ranking for the last four years.
Mr. Strangfeld received a B.S. in business administration from Susquehanna University, and an MBA from the Darden School of Business at the University of Virginia.  He holds the Chartered Financial Analyst (CFA) designation.
Mr. Strangfeld has a deep commitment to his alma maters. He is an emeritus member of Susquehanna University's Board of Trustees after serving as Board Chair for 10 years. He also served for 12 years as a member of the Board of Trustees of the Darden School Foundation. In 2005, Mr. Strangfeld established and continues to sponsor an MBA scholarship program at Darden for military officers seeking to transition into leadership roles in civilian life.
Mr. Strangfeld is Chair of the Board of Directors of the New Jersey Performing Arts Center, a member of the Executive Committee of the Board of Memorial Sloan Kettering Cancer Center and a Vice Chairman of the Geneva Association.
There were no results found.