Courtney Lowrance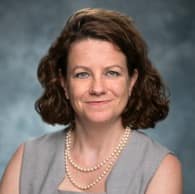 Courtney Lowrance is a Principal Environment Specialist at the Asian Infrastructure Investment Bank (AIIB), a new multilateral financial institution founded to bring countries together to address the daunting infrastructure needs across Asia. She oversees AIIB's ESG strategy, including the development of an ESG Framework for the Bank's first fixed income fund and the launch of a new Sustainable Capital Markets Initiative to develop sustainable capital markets in Emerging Asia.
Previously, Courtney was the global head of Citi's Environmental and Social Risk Management (ESRM) group. In this capacity, she supported Citi's Debt Capital Markets team in Green Bond mandates and helped bring to market the first sovereign green bond in Asia (issued by Indonesia), as well as the first green bonds in Brazil (BRF) and Mexico (NAFIN). She has over 15 years of experience in the field of sustainable finance and has engaged with central banks and finance ministries on the development of green credit policy and green bond markets in Indonesia, Thailand, Nigeria, Peru, and Colombia.
There were no results found.