University Outreach
Chair: Kampo Pal, CFA
Co-Vice Chair: Rongbiao Fu, CFA
Co-Vice Chair: Vy Bui, CFA, CPA
The Student Outreach Thought Leadership Group is to provide a forum for students and universities in order to 1) increase CFANY awareness among students and universities by reviewing and recommending a list of targeted universities, 2) improve CFANY membership through students associations and universities and 3) promote the CFA classes at CFANY for students who want to take the CFA exams. Programs include organizing and developing the CFA Institute Research Challenge, Ethics training and GAME.
Upcoming Meetings and Events
Leaders
Kampoleak Pal, CFA,is a senior director specializing in equities risk management, commodities and hedging programs. He also manages all derivatives risk overlay activities including interest rate, currency, credit and equity derivatives. He is responsible for managing derivatives risk, including market, credit and counterparty risk.
Prior to joining Guardian in 2008, Kampo spent two years at Constellation Energy, where he was a director in the global credit risk management group and was responsible for co-managing the credit portfolios and defining and implementing credit hedging strategies. Before that, he spent 11 years at The Dow Chemical Company, serving as a fixed income portfolio manager and financial risk manager with responsibilities that included managing foreign exchange exposure. Kampo has over 20 years of investment experience.
Kampo holds an engineering degree in computer science from EISTI, Paris, and an M.B.A from the Wharton School, University of Pennsylvania. He has a Chartered Financial Analyst (CFA) designation and is a member of the CFA Institute and the CFA Society New York.
Vy Bui, CFA, CPA, is a Senior Project Manager at CB&I. She is currently working on the Build it Back Project for The NYC Mayor's Office of Housing Recovery Operations, which is dedicated to helping New Yorkers living in communities affected by Hurricane Sandy rebuild their homes and get their lives back to normal. Prior to that, she has worked at TD Ameritrade, Buchbinder Tunick & Co, and Goldman Sachs. She holds a bachelor's degree in Accounting from the University of New Mexico and an MBA degree in Financial Management from Pace University.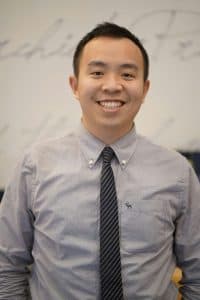 Rongbiao Fu, CFA, is a Senior Investment Analyst at Horizon Blue Cross Blue Shield of New Jersey, a $9 billion health insurance company, where he oversees and manages the reserve, pension, and foundation investment portfolios of the company and its subsidiaries, which total over $4 billion in assets. Prior to that, he has worked as an Associate in portfolio management at Olympus Capital Asia, a $1 billion middle market private equity firm specializing investments in Asia. Rongbiao earned his BA in Finance and Investments from Baruch College.