Financial Reporting and Analysis Group
Chair: Arthur Fliegelman, CFA
Vice Chair: Eric Linder, CFA
Vice Chair: Santhosh Abraham
The Financial Reporting and Analysis Thought Leadership Group follows issues and events affecting financial reporting, corporate disclosure, and accounting standards. Its primary mission is to keep CFANY members informed about these issues. The group also comments on proposed new financial reporting standards (before Regulators and Standard Setters).
Upcoming Meetings and Events
Leaders

Arthur Fliegelman is the Chair of the Financial Reporting and Analysis Working Group. Mr. Fliegelman is an analyst in the Policy Studies unit of the Office of Financial Research, a unit of the U.S. Department of the Treasury. Mr. Fliegelman has previously been associated with the National Association of Insurance Commissioners, Moody's Investors Service and Salomon Brothers.  He has earned an MBA from the Wharton School and is a long-time Chartered Financial Analyst.  He has twice been named a CFANY volunteer of the year for his CFANY activities.

Eric Linder, CFA, is founder and president of SavaNet LLC, a financial analysis software company that develops and markets applications for the publication and analysis of analyst financial models.  Using his experience as an equity analyst, portfolio manager and software developer, Mr. Linder is actively working with investors, reporting agencies, industry organizations, and research providers to implement XBRL to best meet the needs of individual investors and professional financial analysts. Prior to founding SavaNet in 2003, Mr. Linder was a portfolio manager at hedge funds Falcon Management and NWI Investments where he was directly responsible for the active management of domestic and foreign equity and derivative portfolios.   From 1991 to 1997, Mr. Linder held various positions with J.P. Morgan Securities in the corporate finance, capital markets and equity research divisions, culminating in the position of senior equity analyst. Mr. Linder is a CFA charterholder and vice chairman of the CFA Society New York' Corporate Reporting and Analysis Committee.  He was a member of the CFA Institute's XBRL Working Group and played a leading role in developing the national US GAAP taxonomies as member of the XBRL US organization.  He graduated summa cum laude from Dartmouth College where he holds a degree in economics.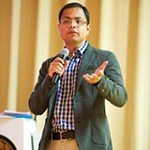 Santhosh Abraham is the Faculty Program Director for Accounting and Finance in the School of Santhosh-Abraham.jpgBusiness & Technology at Excelsior College. Before joining Excelsior College in September 2015, he was at Heriot-Watt University in Edinburgh, Scotland where he worked as an Associate Professor in the department of Accounting, Economics and Finance. Dr. Abraham brings a wealth of knowledge and expertise in the field of accounting and finance. He has more than 15-years of experience in higher education and has worked internationally in Scotland, England, Thailand, and Dubai. Dr. Abraham has also worked on consultancy projects in corporate finance and valuations. He has published a number of articles in the field of investor relations and risk reporting including a recent article (Abraham and Bamber 2017) in Accounting Organization and Society 'The Q&A: Under surveillance' that explores the incentives (disincentives) to sell side analyst participation during question-and-answer session which concludes firm's results presentations.