[fusion_alert type="notice" accent_color="" background_color="" border_size="1px" icon="" box_shadow="yes" hide_on_mobile="small-visibility,medium-visibility,large-visibility" class="" id="" animation_type="" animation_direction="left" animation_speed="0.3″ animation_offset=""]
Please call (212) 541-4530 if you would like to purchase the publication to be shipped outside the U.S.
(additional shipping costs will apply)
[/fusion_alert]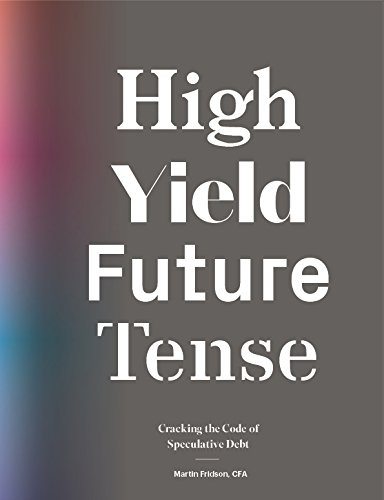 HIGH YIELD, FUTURE TENSE: CRACKING THE CODE OF SPECULATIVE DEBT
Free Shipping in USA (limited time only)
The debut book publication by the CFA Society New York, a not-for-profit professional society dedicated to professional excellence and ethics in financial markets, High Yield, Future Tense: Cracking the Code of Speculative Debt presents the outlook for high yield bonds and predicts profound changes in the marketplace. Its four sections contain 18 contributions by 29 experts from finance and academe. PART 1: Market Dynamics Three contributions explore whether a crisis will follow today's low default rates and narrow yield spreads. Four others examine whether high yield spreads over-compensate for risk, uphold classic criticisms of underwriting practices, analyze market liquidity, and detail leveraged loans' evolution in a bond-like direction. PART 2: Active Management This section sheds light on non-standard leading indicators of high yield performance; the relationship between high yield and equity returns and distressed debt managers' response to the current, unusual credit cycle. PART 3: Analytical Innovation Successful high yield investing depends on accurate estimation of risks other than default probability. New methodologies that address them include: systematic scoring of the quality of covenant packages of new issues and a monthly index of covenant quality; solutions to problems in measuring performance, quality, and valuation that may lead to investment errors and quantification of issue-level liquidity, enabling investors to make explicit tradeoffs between spread and liquidity. PART 4: Benchmarking This section's chapters address intrinsic flaws in market indices. The authors predict further specialization of subindices to accommodate specialized strategies, address challenges of high yield index construction from the portfolio manager's perspective, and show the advantages of non-market-cap-weighted indices. Contains 168 exhibits, including 111 charts and graphs and 57 tables, plus 31 mathematical formulae.
Hardback: 464 pages
Publisher: CFA Society New York, Inc. (First Edition: September 9, 2015)
Language: English
ISBN: 978-0-692-46323-9
Edited and with contributions by Karen Sterling, Ph.D., CFA and Martin Fridson, CFA, containing 18 chapters by 30 expert contributors with a FOREWORD BY FRANK FABOZZI.
$55
+ sales tax for NY state residents
Free Shipping in USA
(Limited time only)

Your card will be charged and your order processed within five business days of its receipt.
International orders available with additional shipping charges.